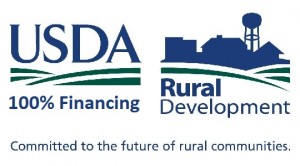 When the 2010 Census maps were drawn up, and analyzed, it showed  many communities across the US were scheduled to lose their "rural" designation based on updating the USDA eligibility map and that would cost them the  opportunity to qualify for the No Money Down USDA Mortgage starting October 1, 2012.
I've personally spoken to a number of first time home buyers who have been told they have to go with an FHA Mortgage due to the uncertainty of what areas will remain eligible for the USDA Mortgage program.
They've been told things like the area isn't going to qualify after October 1st,2012 or my favorite lie, the interest rate on a USDA Mortgage is going to be higher than an FHA Mortgage. This is absolutely false. Even if it were true, you would still end up with a lower monthly mortgage payment because the monthly mortgage insurance on a USDA Mortgage is substantially cheaper than an FHA Mortgage.
I have great news! I just received the following email.
Action Alert
September 26, 2012
USDA Extends Rural Definition Until March 27, 2013
Dear Rural Advocates,
Yesterday, USDA issued a notice to all local, state, and national Rural Development staff instructing them to continue to use the current "rural" definition until March 27, 2013, and postponing implementation of data from the 2010 Census data until that time. This notice applies to all Rural Development programs, including those administered by the Rural Housing Service, the Rural Utilities Service, Rural Business Service and the No Money Down USDA Mortgage!
The new deadline–March 27, 2013–coincides with the expiration of the FY13 Continuing Resolution. This is a important victory for all rural advocates because it allows us to continue to work with Rep. Fortenberry to find a long-term solution to this issue when Congress returns to Capitol Hill after the November elections.
The notice also includes changes to the data USDA will use to verify income eligibility. Because the 2010 Census–and future Censuses–does not ask participants about their incomes, USDA will begin to use the 5-year American Community Survey estimates to determine income eligibility standards for the No Money Down USDA Mortgage. So this means the eligible areas will not change until at least March 27th, 2013.
If your lender or real estate agent is telling you that you can not use a no money down USDA Mortgage to buy your home because of the eligibility concerns, it's time to find a new lender. Don't let your lender or agent pressure you into an FHA Mortgage or some other program that doesn't benefit you just so they can meet a closing date. A USDA Mortgage is going to give you a lower monthly payment and a low 30 year fixed rate so take advantage of it while you can.
Feel free to call us at (877)228-9069 or contact us by using the form below for more information.
Contact Us
Feel free to call us at (877)228-9069 or contact us by using the form below for more information.
Contact Us